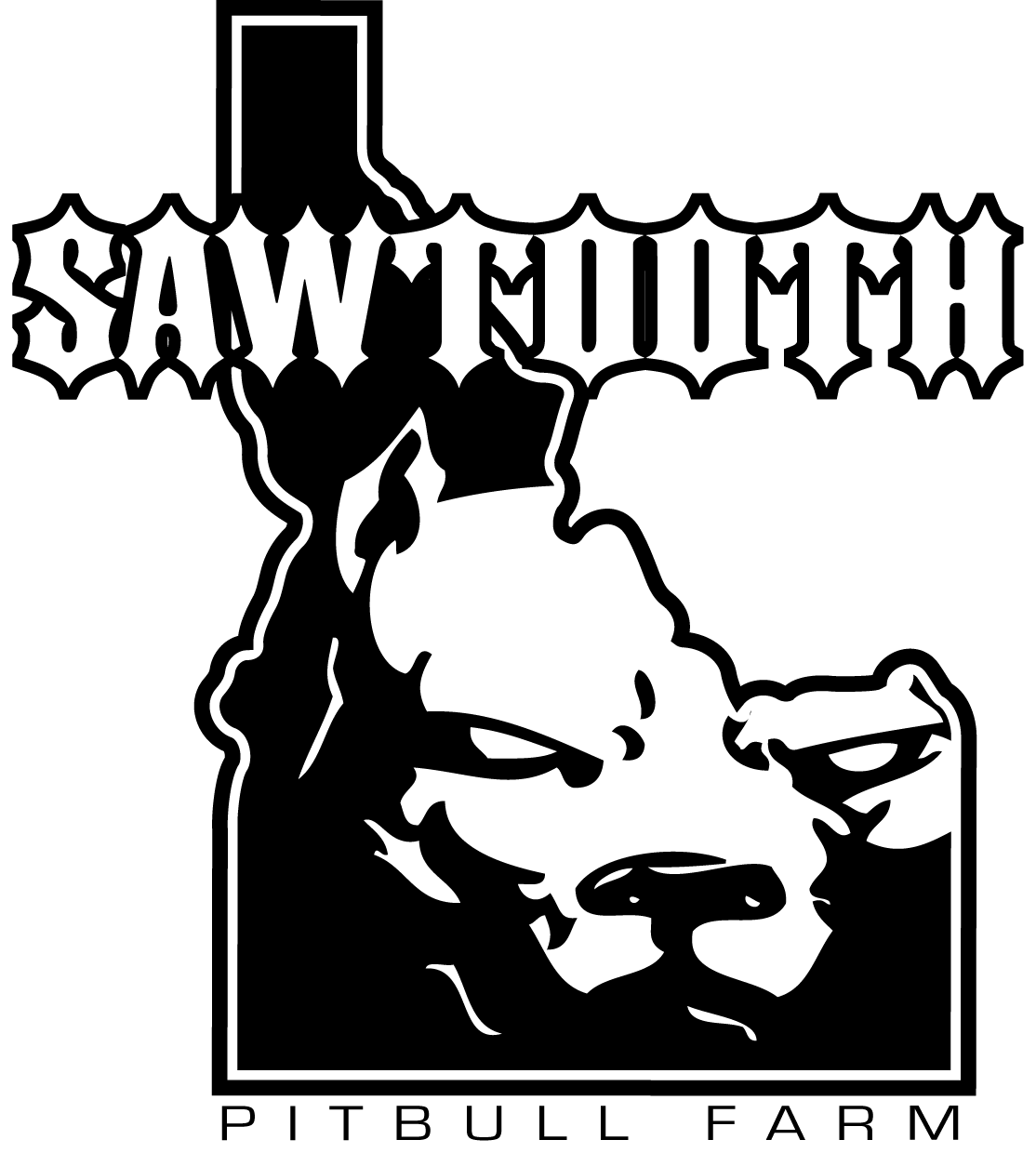 Welcome to Sawtooth Pitbull Farm
SAWTOOTH PITBULL FARM

Sawtooth Pitbull Farm offers the highest quality Pit bulls ranging from Blue Nose, Black Nose, and Red Nose. Each dog comes with UKC registration, most of them with Purple Ribbon UKC registration. Sawtooth Pitbull Farm is located in Boise and Meridian, Idaho.

We love all our pit bulls. Sawtooth Pitbull Farm believes in breeding registered and papered pit bulls only. Helping to preserve genealogical record, conformation and the standard of the breed. We do not condone random backyard breeding. We believe that all un-papered pit bulls should be fixed to prevent the over population of pit bulls in most of the humane societies and shelters through out the US. We strongly support pit bull and bully shelters. We ask you to support them also by donation and/or adopting/saving a pit bull.

Sawtooth Pitbull Farm is obsessed with breeding SUPERIOR pit bulls. We are always trying to make the breed better or further it, so we can strive to produce the complete package. These pit bulls are consistent in structure, size, gameness, and athletic ability, with heavy bone, muscle mass, huge heads and wide chests, still allowing them proper movement and conformation to the U.K.C standard. Producing the ultimate pit bull and the perfect companion.

Our foundation bloodlines are some of the BEST in the USA, we have dogs from Muglestons pit bull farm; we have heavy Watchdog, OG Greyline, Gotti, and Razors Edge Pit bulls from Banks and from Ruckus Kennels, Championship York, Gaff, Camelot, and Peterson's.

Sawtooth Pitbull Farm has some of the top bloodlines in the country. We have pitbulls with 2X or more of these famous studs. Lobo, Orion, Juan Gotty, Grand Fuba, Muglestons Magoo, Bishop, Hades, Remy Martin's Sire-Blue of Ruckus, Short Shot, Midget man, Goon, 12X KGB and many more.

We love our dogs as family and sell them to people or kennels that have the same beliefs. No dogs are sold for illegal purposes ever.

Here at Sawtooth Pitbull Farm we pride ourselves, not only on the quality of our pit bulls, but complete honesty and integrity with our customer service. Always making sure you have a good experience purchasing a pit bull puppy or an adult pit bull.

Thank you for choosing Sawtooth Pitbull Farm, and remember any questions please feel free to contact us.

HISTORY

Sometime during the nineteenth century, dog fanciers in England, Ireland and Scotland began to experiment with crosses between Bulldogs and Terriers, looking for a dog that combined the gameness of the terrier with the strength and athleticism of the Bulldog. The result was a dog that embodied all of the virtues attributed to great warriors: strength, indomitable courage, and gentleness with loved ones. Immigrants brought these bulls and terrier crosses to the United States. The American Pit Bull Terrier's many talents did not go unnoticed by farmers and ranchers who used their APBTs as catch dogs for semi-wild cattle and hogs, to hunt, to drive livestock, and as family companions. Today, the American Pit Bull Terrier continues to demonstrate its versatility, competing successfully in Obedience, Tracking, Agility and Weight Pulls, as well as Conformation.

The United Kennel Club was the first registry to recognize the American Pit Bull Terrier. UKC founder C. Z. Bennett assigned UKC registration number 1 to his own APBT, Bennett's Ring, in 1898.

CHARACTERISTICS

The essential characteristic of the American Pit Bull Terrier is strength, confidence, and zest for life. This breed is eager to please and brim over with enthusiasm. APBTs makes excellent family companions and have always been noted for their love of children. Because most APBTs exhibit some level of dog aggression and because of its powerful physique, the APBT requires an owner who will carefully socialize and obedience train the dog. The breed's natural agility makes it one of the most capable canine climbers so good fencing is a must for this breed. The APBT is not the best choice for a guard dog since they are extremely friendly, even with strangers. Aggressive behavior toward humans is uncharacteristic of the breed and highly undesirable. This breed does very well in performance events because of its high level of intelligence and its willingness to work.